In the world of 3D printing, innovations are endless. However, what truly distinguishes one product from another is its ability to blend functionality, user-friendliness, and value. Mech Solutions Ltd and BIGTREETECH proudly present the BIQU B1 3D Printer, a top-tier entry-level printer packed with advanced features, ensuring a seamless 3D printing experience.
Every creative mind, whether a professional designer, hobbyist, or student, needs the right tool to turn abstract ideas into tangible reality. The BIQU B1 is designed to be that bridge between your imagination and real-world prototypes. With its impeccable precision, your designs will no longer be limited by the shortcomings of the tools at your disposal.
Seamless Experience for All
Whether you're an expert in 3D printing or someone just starting out, the BIQU B1 ensures an effortless experience. The easy assembly means you can start almost immediately, while the user-friendly interface ensures your journey is smooth. This printer is the epitome of 'plug and play' in the 3D printing world.
What's in the box?
The BIQU B1 arrives in a disassembled form, which users can easily set up in just 7-8 minutes using the accompanying product guide. The package also includes:
BTT PI V1.2 3D printer controller
Essential accessories such as nozzles, BL touch stand, diagonal pliers, wrench & screw bag, cable ties, and more
A set of TF cards and a TF card reader
50g filament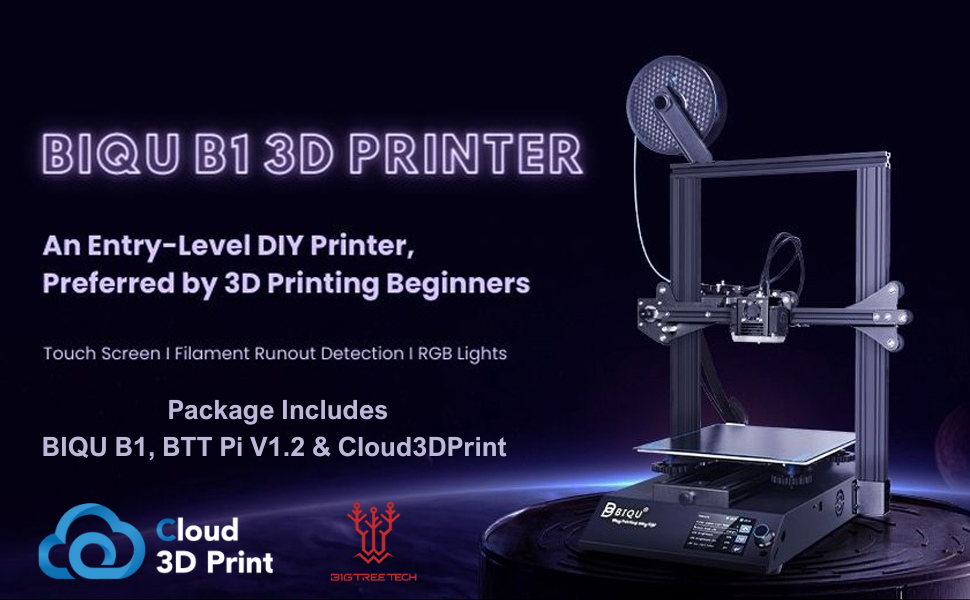 Economical without Compromising Quality
Often, affordable 3D printers sacrifice quality. With the BIQU B1, this isn't the case. It's competitively priced without compromising on the premium features you'd expect from high-end models. This makes it the perfect choice for those seeking quality without breaking the bank.
Outstanding Product Features:
The BIQU B1 stands out with its:
Silent Printing: Thanks to its built-in 32-bit SKR V1.4 motherboard and TMC2225 ultra-silent drivers, expect a noise-free printing environment.
Printing Precision & Compatibility: Achieve fine details with a layer resolution of up to 0.1 mm and compatibility with multiple filament types, from PLA to TPU.
Color Touchscreen: A 3.5-inch TFT35 V3.0 Dual Operation color touchscreen facilitates easy navigation and real-time print data monitoring.
BIQU SSS (Super Spring Steel): This ensures stable printing, with models sticking perfectly and being easy to remove afterward.
Filament Sensor: If your filament breaks during printing, the printer will automatically pause, detecting potential issues and conserving resources.
Vibrant Multi-color RGB lights: Built into the hot end, these lights not only add aesthetic value but also enable night-time printing visibility.
BTT Pi v1.2: The Revolution in 3D Printing Control: The BTT V1.2 control board by BIGTREETECH is a transformative component, facilitating a smooth 3D printing journey.
Why Choose BIQU B1?
We believe in the power of 3D printing to bring ideas to life. The BIQU B1, with its advanced features and user-friendly interface, offers a perfect blend of precision and efficiency. Added to this is our commitment to excellence and unparalleled customer support.
For those eager to embark on a 3D printing journey, or seasoned enthusiasts seeking an upgrade, the BIQU B1 is a sound investment: Trust Mech Solutions Ltd and BIGTREETECH for a superior 3D printing experience.